All the powers on earth can't change destiny is a famous quote uttered by the protagonist in the Godfather III and its gravity can be well applicable in contemplating the complex life led by Sri Lanka's first Executive President J.R Jayewardene. None wrote songs in praise of him and he led a life devoid of panegyrists around him to the very last moment, but his Himalayan contribution that completely altered the socio-political and economic space in Sri Lanka requires no further praise for a thousand years and beyond.
Junius Richard Jayewardene was born on September 17, 1906 to a family of judges and jurists. His father Justice E.W. Jayewardene was a judge in the Puisne Court of colonial Ceylon in an era, where the entry to colonial judicial service was exclusively confined to the British. Young J.R.'s childhood was a privileged one and Justice EW may have thought that his son would follow the tradition of the Jayewardene family by reaching the Judicial Service, but he never knew JR would one day appoint Judges to the Supreme Court of independent Sri Lanka.
Education
J.R's education at Royal College, Colombo was not an academically celebrated one as he could not attain greater academic merits like his father and uncles. In fact, he was an average student surrounded by many brilliant scholars, but the sheer display of gusto and determination took him to the greater heights of his schooling career before he left the hallowed portals of Royal. Unlike SWRD, who sought acceptance and admiration from his friends at both S.Thomas' and Oxford, J.R.'s schooling career was a less extravagant one, but he displayed his brilliance beyond the classrooms at Royal.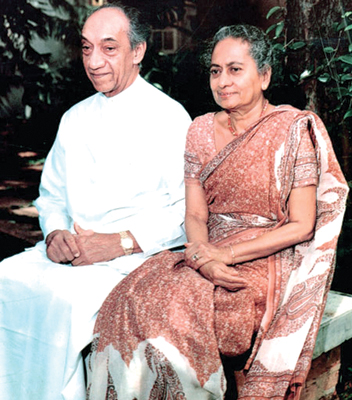 In 1924 J.R. led the Royal College Rugby team and was defeated at the hands of Trinitians. In 1925, he played for the annual Royal-Thomian cricket encounter and was unable to score a single run. His wicket was taken by S. Thomas' fast bowler S. Ratwatte. Failures loomed before him, even before he entered the realm of politics, but consistency was his only solace. Just like how he rose to excellence at Royal through dozens of hardships, his political triumphs were filled with obstacles.
He marked his political debut at just 32 after gaining his maiden political victory against E.W Perera in 1943 and entering the National State Council. When [former Prime Minister] D.S. Senanayake formed the United National Party (UNP) in 1947, J.R was a founding member. The political chicanery that encompassed the party after the demise of D.S Senanayake in 1953 made a greater impact on J.R.'s political career by pushing him aside in the rivalry between Dudley Senanayake and Sir John Kotelawala. When the UNP suffered a humiliating defeat in 1956, J.R. lost his seat but remained unshaken.
JR is still well-known globally for his speech at the San Francisco Peace Conference in 1951, (he was Finance Minister at the time) where he quoted the Buddha – "hatred does not cease by hatred, but by love alone". It was only after this speech that the Allies decided to forgive Japan, where JR is revered to this day.
Decisive victory
The 1956 political debacle ended Kotelawala's political career and Dudley was less interested in taking up party responsibilities. Amidst all those chaos JR lifted up the UNP from its slumber to a decisive victory in 1960. But the success was short-lived as the UNP lost to the Sri Lanka Freedom Party (SLFP) in the Parliamentary Election held in July 1960 and the UNP had to wait another five years to return to power.
Besides his political acumen, JR was a renaissance man, who admired art, culture and other aesthetics and he often assimilated them to the political theatre. For instance, the eulogy he delivered at the funeral of former Prime Minister Dudley Senanayake in 1973 was an emulation of Horatio's speech in Shakespeare's Hamlet with a Sri Lankan taste. When J.R said adieu to Dudley by saying "Good night, sweet prince, and flight of angels sing thee to thy rest", the thousands of funeral gatherers began to weep. Yet his greatest moment was yet to come.
It was in 1977 that he reached the climax of his political career by crushing the United Front (UF) led by Sirimavo Bandaranaike, which marked the literal end of many Leftist politicians in the country. His destiny was a slow one, which expected him to stay patient, but its eventual reward was magnanimous as it brought him to the top of the power.
JR changed the Constitution, transformed Sri Lanka's economy to a market economy and none of those changes stemmed from his political motives. Indeed, they were akin to his long-term expectations whereby he yearned to see Sri Lanka as a State prepared for the challenges of the 21st century. In an era when Internet and IT were unheard of, he wrote "a society based on technology and information awaits us in the future and we must accelerate ourselves to welcome it".
Perhaps JR was the most well-informed President in Sri Lanka. He was a seeker of knowledge and was humble enough to gain it from those who were younger than him. On one occasion, JR read young Rohan Gunaratna's "Sino-Lankan Connection" before he met Chinese President Deng Xiaoping in 1984. JR was highly impressed with Gunaratna and appointed him as his Research Assistant. Today, a world-renowned authority on counter-terrorism and strategic issues, Prof. Gunaratna recalls how President Jayewardene allowed him to use his library at Braemar, where Gunaratna was first exposed to the literature on terrorism, which inspired him to study further in the field of counter-terrorism.
According to Prof. Gunaratna, more than any Sri Lankan leader, J.R. was well connected to powerful international personalities from political leaders to Army Generals. When the country was in tatters after the JVP's second insurrection (1988-89), he was advised by one of his friends, Major General Richard Clutterbuck, Director Operations, Malaya to focus on eliminating the top leaders of the insurrection and it was after JR retired from politics that this advice was taken seriously.
Indelible impact
Undoubtedly, Jayewardene made an indelible impact on modern Sri Lanka and that impact would last for generations. Perhaps, he was the most misinterpreted leader in Sri Lankan history as many of his decisions driven by bonhomie and political intuition became subject to criticism. As a politician, Jayewardene acquired political maturity with time and many of his fellow politicians gained it by making bitter mistakes. Thus, JR was always ahead of the curve.
The writer is a lecturer at the Faculty of Law, Sir John Kotalawala Defence University